October 18, 2018
6403 Views
Category:

Blog
Neil Patel recently declared, "the homepage is dead." Marketers have a mandate to create a customer-centric experience. The web is quickly shifting from a mass content experience to a personalized one driven by technology advancements in automation, data science, AI and machine learning. Today's marketers have a mandate to creating responsive web pages that change and update automatically with new content tailored to the customer.
Customers now expect a tailored experience, including customized recommendations and a personal touch. And they are willing to reward companies who provide it. Although personalization is not quite turnkey yet, the opportunity has never been better.

Venture Beat, AI-enabled personalization is easier than you think
/ Jake Bennett, POP
Designing a personalized web experience is quickly becoming a top priority for marketers. Today's digital world requires marketers to create multiple home pages to speak to the tastes, preferences, and demographics of the visitor. When it comes to AB marketing, the data is clear that personalized content and messaging are the more effective tactics. In a survey conducted by Ascend2 and Research Partners, 51% of marketers said that personalized content and messaging was the most effective tactic used for account-based marketing.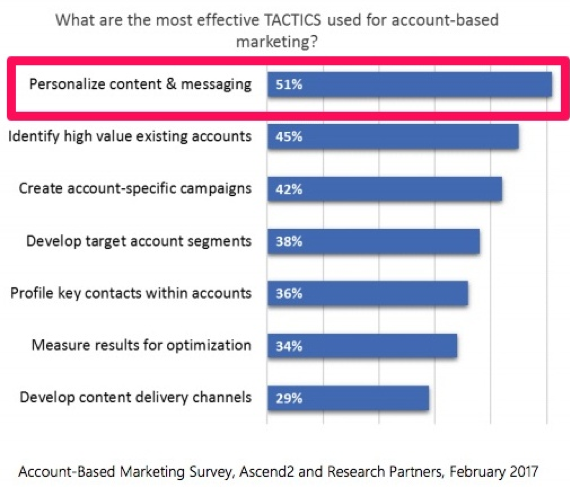 Here are a few of the opportunities:
Location Targeting
Personalization actually allows marketers to expand their global reach. For example, the interests of someone in Costa Rica will be different from those of someone in Brazil, USA, or Germany. Personalizing web pages based on location demographics allows businesses to reach potential customers from a wider spectrum of demographics and locations than a one size fits all. For local market focused businesses, Google Maps APIs are a great feature to include in websites. For example, a customer can quickly map out directions to your location which improves the customer experience.
Recommendations
Personalizing the customer experience including recommendations is a must. Amazon pioneered personalizing web pages to the interests of a user. Customers want a web experience that speaks directly to them and their interests. Today's businesses are driven by customers. Customers expect customized recommendations as well as a personal touch.
Chatbots and Messaging
Chatbots and messaging are a great way to engage customers directly through AI applications. AI-based messaging apps that can engage customers in an intelligent conversation, answer questions and provide excellent customer are in demand. Some of the advantages of chatbots include: relatively inexpensive to implement, platform agnostic and also able to capture user data in great detail. When done well, they improve the customer experience.
Watch AI/Machine Learning Advancements
Designing and building AI tools that effectively interpret the data collected is a focus for MarTech companies. It's the lynchpin to creating an ideal customer experience. In a recent interview with Ad Age John Koetsier, a mobile economist at Tune said of marketing AI, "We're on step two of 100," Koetsier, said. "We are able to use some AI today to make things smarter for marketers, but it is nothing compared to what we will see in five years." We expect the website personalization strategies and techniques marketers employ today to look rather primitive in just five years.
These are just a few tips on how to build a custom web experience for today's businesses. If you'd like to learn more and start your business transformation today, please contact us.